Boston Cape Cod Wedding Videographers. Authentic, Intentional, Story Driven Wedding Videography
At Beabout Exposure we capture commitment through visual storytelling. Creating unique and unforgettable wedding films for nostalgic couples. Being Boston Cape Cod wedding videographers is our passion.
One of the best things we did while wedding planning was hire Phillip and Brittany to do our videography. They were amazing through every step of the wedding process and allowed me to feel stress-free in regards to the videography. Even when it came to pivoting all our plans and reimagining our wedding during the pandemic, they were flexible, understanding and excellent with communication.
Beautiful Fall Wedding Just Outside of Boston | Bradley Estate 
Accompanied by their families, friends, and dog Lacey they said, "I do" in the elegant garden just outside the stately country house. 
Brother Creates Custom Wedding Score. Boston Wedding
When Lívia and Isaac first reached out to us we knew right away that we were a perfect match. Their wedding took place at the Hyatt Regency in Cambridge, Massachusetts overlooking the Boston skyline.
Emotional Wedding Vows Even Better The Second Time
We had the absolute privilege of documenting not just one wedding for Kristen and Joe, but TWO!! Over the course of two planned weddings, and a never ending global pandemic we got to capture two very unique and special celebrations of their love and commitment. 
Wonderful Vows With An Amazing Cape Cod View 
When we had our storytelling session with Kevin and Kristen they made it clear to us that they wanted their film to reflect the awesome party that they were about to throw. And boy do Kevin and Kristen know how to have a great time! 
Brittany and Phillip were an absolute joy to work with! From the moment we began working with them, it was clear videography is their passion. They go above and beyond to make sure your video is everything you have imagined and more. They are both extremely kind and professional and make the filming process so easy and comfortable! I couldn't imagine having anyone else capture our wedding day. We truly couldn't recommend them enough!
Grooms Reaction Will Melt Your Heart at Pierce Farm at Watch Hill 
When we crossed paths with Lexy and Jacob in the times before COVID (because that is a thing now) we had no idea the special bond we were about to create. 
   Incredible Floral Decor at The Osterville Historical Museum Cape Cod. 
   Christina and Eamon shared the most intimate vows in a beautifully arranged color pallet that complimented their bright personalities. 
Emotional Father of the Bride Speech at The Club at New Seabury in Mashpee, Massachusetts
A stunning venue with ocean views adorned with the most romantic flowers and smiling faces created the perfect backdrop for Sara and Fred to say "I do."
Brittany and I are storytellers that transform your day into a film that will last a lifetime. Every film is uniquely tailored to each couple, through story telling sessions, music selection, and our authentic color grading process. We would be delighted to meet with you and capture all of your special moments on one of the biggest days of your lives. We do this out of passion and a love for capturing your special moments. If you think having the ability to reminisce the beginning of your lifelong commitment with the love of your life is worth celebrating time and time again, you're in the right place! We are available in Boston, Cape Cod, New England, and World wide. All love is welcomed here.
We want to transport you back to the day you said, "I do" anytime you watch your film through: 
Connection-when our couples are comfortable in our presence they can be themselves in front of our cameras

Quality-we limit the number of weddings we film in order to give our clients a personal experience

Authenticity-your wedding film will be uniquely yours in every aspect of its production
We take an immense amount of pride in creating intentional, long lasting, quality films that with stand the trends. We love being Boston Cape Cod wedding videographers and having the ability to capture real authentic moments that show case the love two people have. It is important our couples trust us to create that film for them.
Selecting someone to capture your big day isn't an easy task especially when you have very high standards! For us, the perfect video was not only capturing elements of our big day that we truly wanted to remember but also the REAL elements that were not staged. So often, wedding videos are lacking creativity, boring to watch and discouraging when you think about how much someone paid for that level of quality. Finding a company who could check all the boxes for us, felt like an impossible task, until we met Phillip and Brittany at Beabout Exposure.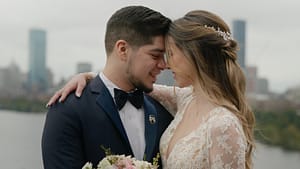 Weddings
When Lívia and Isaac first reached out to us we knew right away that we were a perfect match. Our mutual love of Star Wars
Read More »
Weddings
Ashley and Shane's wedding was a very unique wedding for us. Why? Ashley and Shane did not want to know the comings and goings of
Read More »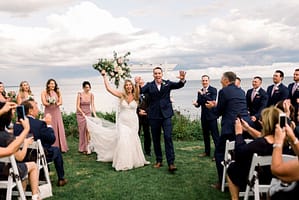 Weddings
When we had our storytelling session with Kevin and Kristen they made it clear to us that they wanted their film to reflect the awesome
Read More »